Food
Irani Chole // Iranian Chickpea Stew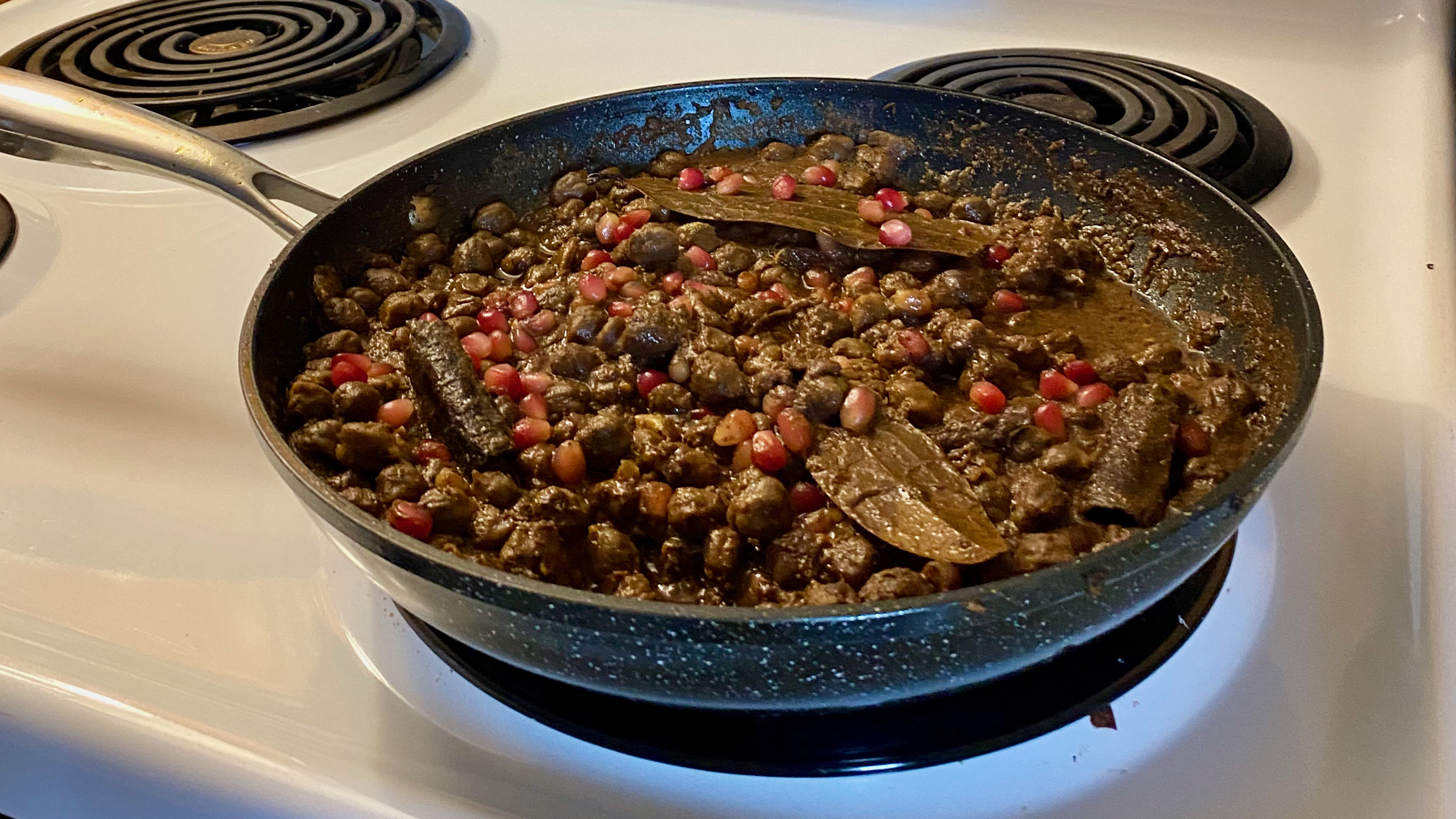 Well, it finally happened. I'm writing a down a recipe. Hello food blogging, I guess.
Don't worry, I don't have anything close to a heartfelt story to tell you about how this dish somehow means a lot to me.
I made it. It was nice. I might make it again. It'll serve 4-6 people, depending on appetite. Base recipe from: this place.
What you need
Chickpeas, 500 grams
Cinnamon bark, 5 inches
Walnuts, 75 grams
Cashews, 25 grams
Pomegranate juice, 100 ml
Molasses, 100 ml
Oil, 150 ml
Ginger-garlic paste, 2 tbsp
Onions, 2-3
Pomegranate, 1
Orange, 1
Cinnamon powder, 3 tsp
Turmeric, 2 tsp
Coriander seed powder, 3 tsp
Cumin, 3 tsp
Fennel seeds, 2 tsp
Green cardamom, 2 pieces
Cloves, 3-5 pieces
Pepper, 10-15 pieces
Bay leaves, 2-3 pieces
Fenugreek seeds, 1 tsp
Mustard seeds, 2 tsp
Paprika / Kashmiri or Degi Mirch, 2 tsp
Nutmeg, 0.5 tsp

Asafoetida, 2 pinches

Salt
Willpower
Patience
Time: 2-4 hours
What to do
Before you start, ensure that you have cleaned the chickpeas, soaked them for 8 hours, and them boiled them to a soft or soft-adjacent texture beforehand.
First, we will make the core "spice mix".
Take the cinnamon powder, coriander powder, turmeric, cumin, cardamom, cloves, pepper, fenugreek seeds, mustard seeds, Kashmiri mirch / paprika, and nutmeg - grind them finely. Notice the thing missing here - fennel seeds. They'll go into the mix solid.
Now, we prepare the "nut mix".
Roast the walnuts and cashews until they brown a little, then grind them to a powder.
Finally, the real thing.
Heat the pan, should be about a minute or two.
Put the oil in the pan, should start to see "movement" from the oil but not smoke.
Add the bay leaves, let it cook for 30 seconds to a minute, ensure that it's not getting burnt, or start again.
Now add the fennel seeds and let them fry without getting discloloured, about 30 seconds to a minute.
Now add finely chopped onions, and wait for them to start browning. You've seen the colour brown, you'll know when it happens. I cook slowly and on a low flame, so it takes me about 30 minutes.
Just when the onions start browning, add the ginger-garlic paste, Asfotieda, and the cinnamon stick. Cook for a couple of minutes until it stops smelling like raw ginger / garlic.
Now add the "spice mix" from above, and cook for a couple of minutes.
Add pomegranate juice and molasses, and stir and cook for a couple of minutes.
Now add the chickpeas (and the water you boiled them in), along with at least 1 tsp salt, and prepare for a long stir-and-wait session. Increase the heat and bring the mixture to a boil, and then return tto your preferred heating level. If you've pre-boiled the chickpeas, you might spend about 1 hour here. If you haven't then maybe 6 (like me).
Once you're starting to get the chickpea texture you want, add the nut mix to thicken the gravy. Bring the mixture to another boil, then go back to whatever level you prefer.
Adjust salt if it's lacking. Add some crushed pepper if you want things spicier.
Add the juice of half an orange to make the whole thing tangy. Cook for about 5 minutes, and them remove from the flame / heat.
Add most of the the seeds of the pomegranate and mix them it. Use a few to garnish on top.
Congratulate yourself because you're done.